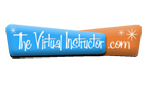 I have added a new assignment to the Electronic Media class that I teach. I can't believe that I had not added it earlier as it is one of my absolute favorite forms of art-making. I'm talking about digital painting. And it seems that I had forgotten just how much I love it. I was reminded of the joy of digital painting (Ode to Bob) by demonstrating to my classes. It seems that I had gotten distracted, as often is the case in life, by other endeavors. But as I drew in Photoshop I was reminded of how much I love it. We are truly lucky as artists to have the vast array of media that we have at our disposal. I wonder what Leonardo DaVinci would have done with a computer loaded with Adobe CS5 and Wacom tablet.
Painting in Adobe Photoshop is unique The cleanness of the surface and the fluidity of the mark is quite appealing. If you are a traditional painter and have not tried digital painting, I would strongly recommend it. You may be surprised at how much it reminds you of traditional painting. An artist to check out is William Lowe. Do a search on YouTube for his name and take a look at some of his work. He was once a traditional painter but now he works exclusively digital. He is quite the master digital painter.
I'm definitely looking forward to finding some free time to explore my love for creating digital painting again.