Sometimes the little gestures in life are the ones that leave life long impressions.
Probably for many of us, when we think of impactful art, we envision great works that have been viewed by thousands or even millions of people. We think of masterpieces that line the pages of our art history textbooks. Our maybe we think of artworks that have influenced art itself, leaving impressions on the aspiring artists that would follow, changing the course of art history. Of course, works such as these are in fact impactful. But truly an artwork doesn't have to be featured in a gallery or museum to make a real difference in the life of another.
An initiative exists that understands the impact that a single work of art can have on another individual. This unique program is called "The Memory Project".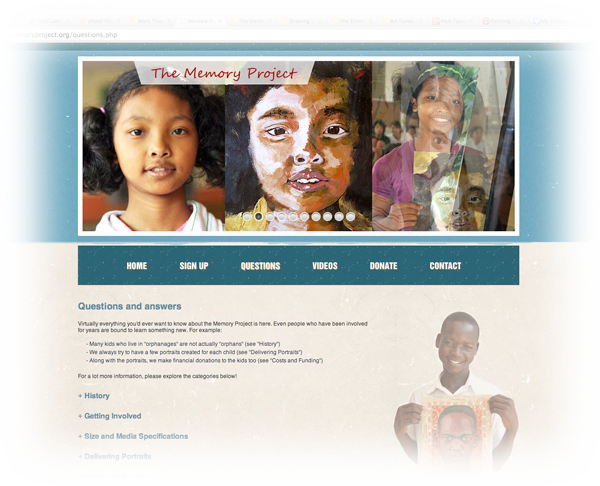 The Memory Project was started in 2004 by Ben Schumaker to provide orphaned, neglected, and disadvantaged children personal keepsakes. Often children in these situations have few sentimental personal items. The Memory Project aims to give these children "special memories" that capture childhood in the form of portraits. Art students from around the world create original portraits of the children from provided photos. The artworks are then delivered to the children in person. Each recipient is photographed with their portrait as they are delivered.
The following is a video from the site of children in Vietnam receiving their portraits…

You can imagine the impact that this event has on the child. To date, The Memory Project has produced 50,000 portraits for children in 34 countries around the world.
Because the children often have limited space to store the artworks that they receive, the size of the portraits is limited to 9" by 12". Artists that create the portraits use their own materials and each participant must pay $15. (The cost is to cover the expenses of delivery to the orphanages.) There are funding programs available at TheMemoryProject.org.
This program is a great way to show a young artist how their art can impact the lives of others. The portrait created may never hang in a gallery or museum space. It may never grace the pages of an art history textbook. It may not inspire future artists or change the course of art history. But it will impact a life. I dare say that artworks like these are more impactful than any that hang in a museum.
To learn more about this fantastic program visit thememoryproject.org and find out how you can get your students involved.