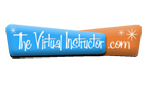 David Hockney is a British painter.  He is considered by many to one of the most influential British artists of this century.  Painting is not all he is known for.  He also is an accomplished photographer and recently, digital artist.
Many artists have already embraced the digital age by creating paintings on digital devices.  The most popular devices for creating digital paintings are the iPhone and the iPad.  The most popular app for this is "Brushes" , which can be purchased through the Apple App Store for just under six dollars.  (Try buying a quality tube of paint for six dollars.)
Hockney has embraced this new and exciting medium for creating art.  He currently has a show entitled "Fresh Flowers" that features over a hundred digital paintings created on the iPad or iPhone.
Hockney's digital paintings are much in line with his recent style.  Bright colors and deliberate lines are featured in the paintings.  But what makes Hockney's embrace of the new technology exciting to me is his place in the art world.  You see, Hockney is well beyond established.  What is to be admired is Hockney's ability to accept a new medium that many traditionalist would sneer at.