So Christmas came and went and I didn't get that shiny new Apple iPad.  Oh well, it doesn't have Flash anyway.  Despite not having an iPad, I still have an iPhone and there are some great apps for artists.  We'll take a look at the five apps that I think are best for artists.  I picked these five  based on their practicality and usefulness.  There are plenty of apps available that are well-just plain terrible.  But these are worth your money.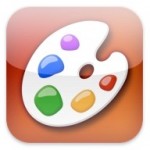 1. Brushes-$4.99 (Apple iTunes)-  Brushes is an app that allows you draw (paint) in a similar manner as Adobe Photoshop.  It features multiple layers and an easy to use interface.  If you make a mistake, it's pretty easy to take a step backward to correct it.  You have several brushes to choose from and you can adjust the transparency of the mark relatively easily.  You can also zoom in and zoom out on your drawing by using two fingers.  Perhaps the coolest feature of Brushes is the fact that it records all of your brush strokes to a file that can be downloaded and then played back in Mac OS  X.  It can even be exported as a QuickTime movie.  So you can watch your painting come to life after you finish drawing it.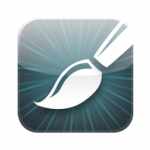 2. Layers-$4.99 (Apple iTunes) I found Layers to be the easiest app to use of the ones I played around with.  Layers is pretty much what the name implies.  It is a painting program that features five layers that can be moved around, edited and removed.  These features are also present in Brushes, but I found them easier to use and access in Layers.  Layers also features a smudge tool.  This tool was good in theory, but I found it difficult to use.  Again Layers has the ability to be replayed in the Mac OS X Viewer just like the Brushes app.  Layers also allows you to change the size of your brush as well as the transparency and color.  Perhaps Layers best feature is it's ability to email finished images as JPG or as PSD files with layers.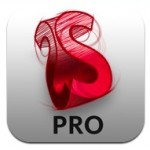 3. SketchBook Mobile-$2.99 (Apple iTunes) Just like the other apps mentioned before, SketchBook Mobile features layers.  You get six layers in this app.  You can even duplicate layers.  SketchBook Mobile features loads of brushes and pencils.  It even features markers.  You can even customize your brush settings. Perhaps the best feature of SketchBook Mobile is the synthetic pressure sensitivity.  This feature makes your marks look natural and makes drawing in the app feel a bit more like you are using a tablet to draw with.

4. Colored Pencils- $3.99 (Apple iTunes) This app is built to simulate colored pencils.  I like this one because it includes the simulated pressure, so that your line tapers at the end just like a real colored pencil.  One drawback to this app is that you don't have a lot of flexibility to the value of the mark, but you can easily change the transparency of the mark.  This app includes paper texture unlike the others.  So if you want to draw with lines only, then Colored Pencils is the obvious choice.

5. FlipBook- $4.99 (Apple iTunes) This app allows you to make short animations right on your iPhone.  It includes an onion skin feature which allows you to see what you've already drawn, so animating is very easy.  This app is a lot of fun and it's easy to share what you've made once you're finished.